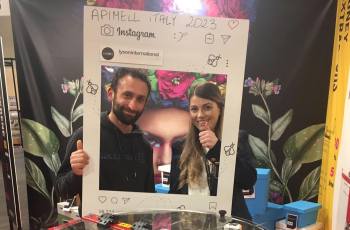 In comparison to former years, the year 2022 is significantly more forgiving for beekeeping shows.
This year's APIMELL International Beekeeping Trade Fair was held at the Piacenza Expo from the 4th to the 6th of March.
The 38th edition of the Italian beekeeping equipment expo drew not only the largest industry names, but also thousands of enthusiastic visitors.
The exhibition facility in Piacenza debuted in its new form for the first time, along with additional exhibition options that gave this year's fair an even more modern feel.
133 exhibitors showcased their best hardware offerings at the APIMELL event.
There were also Polish representatives among them.
At the LYSON company's stand, the greatest interest was definitely shown in the dehydrator, the rotary melting machine and also... polystyrene beehives.
For many years, the Italian apiary economy has been based mostly on wooden hives.
Therefore, the opportunity to get a closer look at polystyrene hives is quite attractive in that area.
According to the organizers, the event was attended by more than 35 thousand beekeeping enthusiasts.
So, after a two-year hiatus, we can finally proclaim that the International Beekeeping Fair is back.
 This is wonderful news for anyone who enjoys technology advancements in a solid beekeeping company.